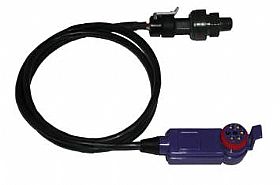 The current selection of V-Net data recorders fall into three basic categories, the V300, V500, and an item called the V50 Record/Playback Module.
Each of these recorders has it's own set of unique features that distinguish it from the other V-Net recorders, but a simplified explanation would be that the basic difference between them is the number of channels they will support, the amount of memory each contain, and the available sample rates.
Technically the V50 is not a data recorder. It does not contain memory. However, when combined with the memory packaged in the connector modules that are attached to each component installed on the V-net cable, it then has the ability to record, store, and replay information the same as it's larger siblings.
For that reason we think of it as a data recorder. When the V50 is used in conjunction with its remote keypad it acts as a controller for the replay function of any Intelli-Gauges on the system. The keypad can also be used to start/stop the recording mode.
When a serial cable is installed into the V50, and linked to a PC or laptop, the V50 can then either upload it's recorded data to the computer (using Racepak's DataLink software), or provide the link to display up to ten monitored functions in real time display on the screen. The V50 has the capability of supporting up to 32 devices (think in terms of channels), and record with sample rates of 10 or 25 times per second. These sample rates will yield recording periods of 800 or 320 seconds respectively. The V50 is intended to be mounted in a dash or flat panel. It's faceplate measures 2.312" tall x 1.625" wide, and it is 1.000" in depth.
For any function to be monitored on the V-Net the signal from that function must pass through two components, a sensor and a module. The sensor is the device that actually measures the input from the function (i.e. pressure, temperature, movement, RPM), while the module serves the purpose of 'conditioning' and 'labeling' the outgoing signal. Without this signal conditioning the V-Net would just become one overloaded cable. On the other hand the modules that serve as connectors for devices that receive signals from the V-Net are used to 'identify' and 'retrieve' incoming signals. A V-Net filter, so to speak. It is not an understatement to say that modules are the heart and soul of the V-Net.
V-Net Modules
These are the modules that are used in almost all V-Net applications. They perform the functions described above. They are easily identified by their blue color-coding and five pin connector. V-Net modules can be used to load both digital and analog signals onto the V-Net cable, but each must be programmed for the specific application for which is it being used (that conditioning and labeling thing we spoke of earlier). Racepak sells V-Net Modules that are not programmed and without a sensor, or you can purchase them preprogrammed and including a sensor. When you purchase a complete system from Racepak the module/sensor combinations are preprogrammed for you. It is handy to remember that only blue connectors (modules) can be plugged into other blue connectors.
Interface Modules
These modules do not contain the signal condition capabilities of the V-Net modules. They are used primarily for loading signals from analog sensors into an analog port of a V series recorder. They are easily identified by being black in color and having a seven pin connector.
Interface modules can be stacked in series of up to four. When doing this you must select which of four channel selections each Interface module is to be used on by positioning a switch on the face of the module to the correct channel position.
In some rare circumstances you may want to incorporate the use of an Interface Module and it's sensor onto the V-Net. This can be accomplished by utilizing a V-Net Interface Module Adapter (230-VM-4ANA7). This adapter module provides signal condition to make the connection possible.
Special Function Modules
Racepak manufactures some modules for specific special functions. These modules are not intended to connect any devices other than those for which they are designed, nor are they designed to be reprogrammed. An example of these modules would be the Replay Tach/Shift Light module, the Relay Control module, or, as shown above, the Economy Dash Kit module.
SENSORS
Most sensor are usually suitable for use on V-Net applications, as well as the hard wired channels of V series recorders, conventional style recorders, and V50 systems. It is the module or transducer that is used with each sensor that dictates it's proper applications. We suggest you consult the Modules With Sensors selection when shopping for sensors for the V-Net to see if a preprogrammed module/sensor combination is available for your application. It may save you some time and confusion.
However, if a sensor is all you need, they will generally fall into one of four groups: Pressure, Travel/Position, RPM, or Temperature. Within each of these groups you will find a selection of sensors for different applications, and often a variety of ranges in which they are intended to operate. Here is a quick look at the commonly used sensors:
Pressure: Available in a variety of ranges from 0-15 psi up to 1500 psi. Due to the ingredients to which they are exposed, special pressure sensors are available for measuring nitrous and brake pressures. Sensors are also available to measure pressure differential and vacuum.
Travel / Position: Sensors are available that can measure rotary travel (throttle position), and linear travel in increments of 1" (throttle position, magneto retard), 3" (clutch throw-out bearing), 4" (front shock travel), and 8" (rear shock travel). There are also switch contacts sensors (wide open throttle position), and of course G-meters (3 or 6 G's) for measuring movement forces.
RPM: When there is a need to monitor the RPM of a rotating object, such as a wheel or shaft, there are various methods of accomplishing the task. Reed switch sensors use an internal, fast acting reed relay to indicate the passing of a rotating magnet. Zero Crossing sensors are available that are designed specifically for use with MSD-style crank trigger wheels and magnets to indicate TDC when monitoring ignition timing. A non-powered Zero Crossing sensor is also available for use in monitoring the clutch, driveshaft, or front wheel on V-Net applications. Hall Effect sensors, which require 12 volt power, are available for front wheel and ring gear applications. For applications where sensors monitor magnets on a rotating shaft, Racepak also has available split collar kits with embedded magnets. Flow meters are also included in the RPM monitoring category. Flow meters are available for gas and nitro (-8, -10, -12) or alcohol (-10).
Temperature: There are a couple of types of temperature sensors. The most common type is those that measure liquid temperatures such as water or oil. This type is shown in the photo at left. Thermocouple sensors are the type of probes most commonly used to measure exhaust gas temperatures. However, there are also thermocouple probes available for monitoring such items as cylinder head temperature, manifold temperature, and liquid temperatures.
CABLES
V-Net Cables: One of the biggest advantages of the V-Net system is its ability to transfer the signals from all sensors over the main V-Net cable. As you might expect this cable isn't the common hardware store variety of cable. Of prime importance are the connectors at each end of any V-Net cable. These connectors work in conjunction with the V-Net modules that they link. In order to avoid any installation confusion all V-Net cable ends are color-coded. Each has a blue end to color match the V-Net modules. Every V-Net cable also features a five pin connector. V-Net cables are available in lengths from 6" to 216". V-Net cables can only be used on the V-Net system, and only with the blue V-Net modules.
Tee Connector Cables: Special mention should be made of two other V-Net cable components. The first is a Tee connector. A Tee connector cable is supplied with all V series recorders and can be used to either 'split' the routing of the V-Net network, or aid in terminating a branch of the system. Tee connectors can also be used anywhere along the V-net cable where it is desirable to branch off another leg of the system.
Terminator Caps: The legs of a V-Net system must be terminated at its ends. Think of this as being the same as a lawn sprinkler system. If the main supply line is not capped at the end, none of the sprinklers along it's route will function properly. The same applies to the V-Net. In order to accommodate this function male and female Terminator Caps have been created. Simply plug the appropriate cap at the end of each leg of the V-Net system and the job is completed.
Interface Cables: The V300 and V500 series recorders are equipped with some high speed analog ports. These ports accept modules that are similar in style to the V-Net modules, but different in function. Called Interface modules, they do not contain any signal conditioning capabilities. These 7 pin modules are black in color, and require the use of their own style of cable. All Interface cables have ends that are color-coded black, and are also available in lengths from 6" to 216". Tee connectors are also available for use with Interface modules and cables. The end of Interface module legs must also be capped, but unlike the terminator caps used with the V-Net, these legs only require a dust cap.