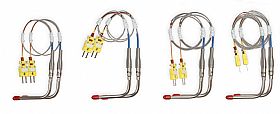 Exhaust Gas Technologies "Special Sensor Set" for Holley EFI Systems.
EGT Probe's 1/4 in.Dia. 90 Degree Angle (Kit of 8).
Bullet Series Long Life 16ga Exposed Tip. FULL YEAR WARRANTY!
You'll receive (2) of each length.
18.500" Holley# 554-175
22.750" Holley# 554-176
27.500" Holley# 554-177
32.750" Holley# 554-178
All sensors include robust Type K mini connector with cable clamp, to protect the sensor from damage due to repeated remove in racing applications. 45 Years Experience in Engineering for high horsepower applications!
Bullet series Sensor 3 Year warranty
Sensor Sheath Diameter 1/4 inch (0.250 inch)
Exposed / Open Tip Sensing Junction (Hyper Response)
Response time 140 milliseconds
Compatible for most fuel types: Gasoline, Alcohol/Methanol & Nitro-methane
Technical Specifications
Bullet Probe Specifications:
Type K Thermocouple (Special Limits of error)
Type K Range -148°F to 2372°F range (-100°C to 1300°C)
Special Limits of Error accuracy (+/- 0.4% of reading)
Sheath Diameter 1/4"inch (0.250"inch) (6.35 mm)
Inconel 600 Alloy sheath high temperature applications
Recommended tip insertion depth .250-.375" inch.
Ceramic Insulated Conductors to protect against ignition noise.
Stainless steel over-braid cable with Kapton insulated Wire.
MOUNTING HARDWARE NOT INCLUDED