---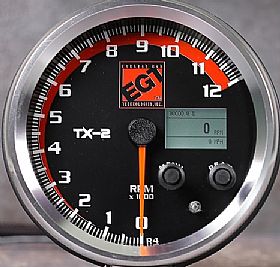 TX-2 Xtream Recording Tachometer with GPS MPH
4.0"inch Dia. Dash mount. "BLACK FACE"
New Features on TX-2
1 Year WARRANTY! MADE IN THE USA
Recording Engine RPM, MPH, Hour Meter
Adjustable record time 1,5,10, or 20 Minutes
Main screen will display, RPM, and Ground Speed
GPS speed updates at 5htz
LED Lighting 13 colors to choose (or Turn Off)
Adjustable Brightness
Power - 8v-18v DC
Operating Range Temp -20° -185°F
Dash Mounting (Hardware included)
With a TX-2 Recording Tach you can:
Monitor and Record Engine RPM/MPH
Recall Maximum's
Scroll through the recorded run on the LCD display.
Review the stored run in full, or 1/3 speed or pause & analyze.
Remote Push Button to activate recording.
Record from adjustable RPM threshold.
Analyze run down to 1/hundredth of second.
Built to with-stand harsh environments / moisture resistant.
Compatible with all Snowmobile, ATV or Automotive Ignitions!
Specifics:
Accurate - Digital stepper motor design proven in racing conditions and re-calibrates every time it powers up!
Versatile - The TX2 tachometers are the only tachometers available to connect directly to distributor-less ignitions WITHOUT requiring any special tach adapter modules.
WHAT'S IN THE BOX:
TX2 Instrument
Power Harness /Remote Switch
GPS MPH Antenna
Robust Dash Mounting Ring
Operation Install Manual