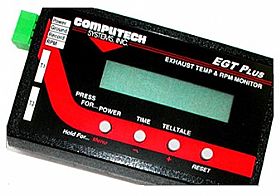 Exhaust Gas Temperature monitors have long been one of the most affordable ways to keep your car tuned week to week. While many EGT monitors simply read a single cylinder maximum the EGT Plus takes it to another level, reading a cylinder on both sides of the engine as well as tracking your engine RPM. Instead of just giving a maximum, the EGT Plus will give you starting line and finish line temperature and rpm, your maximum temp and rpm as well as how many seconds into the run those maximums occurred.
The EGT Plus has the ability to monitor not only exhaust gas temperature but liquid, cylinder head, tire and track temperatures. The monitor can be activated via a remote record switch, transbrake event or operated in continuous mode. The unit can also be powered via a 9-volt battery or through your vehicle's power supply.
The most affordable way to tune from week to week.