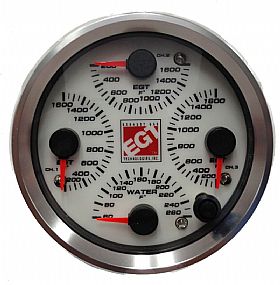 4" Quad w/ 3 EGT's, & (1) Low Water Temp w/ sensor ( Gauge Only).
JUST RELEASED!
The NEW 4" Trio EGT / Water Temp Gauge includes all the features!
All 4 gauges are microprocessor controlled for accurate gauge readings. All gauges are a full 180 degree sweep gauge movement. Much easier to read accurately than the 90 degree gauges that are available, requires 8-18V DC to operate.
Exhaust temp gauge features:
(3)Exhaust Gas Temperatures Available in Celsius or Fahrenheit (200-1800F) Settable alarms on all channels w/ flashing red LED light.
Requires our TRIO Amplifier Kit see part# EGT-0/5v-Trio Kit.
Water temp gauge features:
Measures temperatures from 120-260F. Sensor included.
Settable warning LED for water temp.
Minimum / Maximum recall on all channels

LIFE-TIME WARRANTY on gauge electronics!