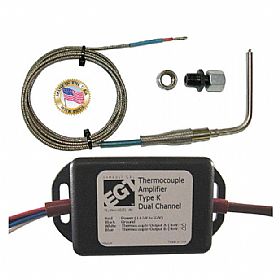 Thermocouple Signal Transmitter 0-5v Type "K" (1) Single Channel Kit with Stinger Hyper Probe.
Just released by EGT our new Signal Converter takes any Type "K" Thermocouple(Ungrounded or Exposed Junction) and converts its signal to 0-5volt output.
The Kit Includes (1) WORLD FAMOUS "Stinger HYPER RESPONSE" EGT Probe w/ Mounting Hardware!
**Stinger EGT sensors have 72" inch wire length, exposed tip w/ universal mild steel weld-on / 1/8" NPT screw-in hardware.
***Enclosed Tip Sensors & Stainless Mounting Options are Available***
Converter Spec's:
(1) Channel for Type "K" Thermocouple. (T/C Included)
Cold junction compensation.(uses any length wire)
Recommended Input Voltage +14.5V to 36V DC.
Output is 4mv/C / 0c = 0v to 1250C = 5.0v
Temperature Range 0C - 1250C or 32F - 2282F
Compact and easy to install w/ Velcro or Screw Mount
Most Dataloggers like AEM EMS, Greddy EManage, Motec, Stack, ACR, HRC, Many Dyno's & Industrial Applications have provisions for 0-5v inputs, this device solves the problem with interpreting the thermocouple's millivolt signal.

This Kit Includes:
(1) Single Channel Thermocouple Converter 0-5v
(1) Stinger EGT Sensor w/ 72" wire length w/ mounting hardware & Mini Plug.
(1) EGT to Converter Box termination (Mini Plugs Installed).
(1) Install Instructions
**Standard EGT connections Mini Jack & Plug

On the thermocouple side of any instrument it is important to use what they call a compensated connector this means that the connector has to be made of the same alloy's as the type used in the a type "K" thermocouple. Using any other alloy will cause the instruments reading to have an error.

To simplify the ordering process EGT has included Type K Mini Plug & Jack connections. Please let us know if a different connector is desired at checkout.

If you have any questions feel free to contact EGT @1-800-348-4678