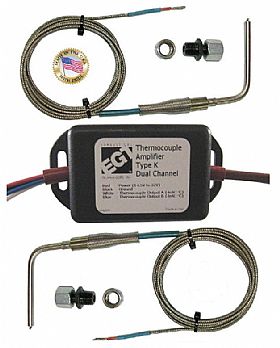 Thermocouple Signal Transmitter 0-5v Type "K" 2 Channel Kit with Stinger Hyper Probes.
Just released by EGT our new Signal Converter takes any Type "K" Thermocouple(Ungrounded or Exposed Junction) and converts its signal to 0-5volt output.
The Kit Includes (2) WORLD FAMOUS "Stinger HYPER RESPONSE" EGT Probes w/ Mounting Hardware!
**Stinger EGT sensors have 72" inch wire length, exposed tip w/ universal mild steel weld-on / 1/8" NPT screw-in hardware.
***Enclosed Tip Sensors & Stainless Mounting Options are Available***
Converter Spec's:
(2) Channels for Type "K" Thermocouple. (T/C's Included)
Cold junction compensation.(uses any length wire)
Recommended Input Voltage +14.5V to 36V DC.
Output is 4mv/C / 0c = 0v to 1250C = 5.0v
Temperature Range 0C - 1250C or 32F - 2282F
Compact and easy to install w/ Velcro or Screw Mount
Most Dataloggers like AEM EMS, Greddy EManage, Motec, Stack, ACR, HRC, Many Dyno's & Industrial Applications have provisions for 0-5v inputs, this device solves the problem with interpreting the thermocouple's millivolt signal.

This Kit Includes:
(1) Dual Channel Thermocouple Converter 0-5v
(2) Stinger EGT Sensor's w/ 72" wire length w/ mounting hardware.
(1) EGT to Converter Box Termination Kit.(staggered leads & mini plugs only)
(1) Install Instructions
**Optional EGT connections are available, "No Charge"
Standard Stripped Leads (Standard)
Staggered Leads w/ Ring Terminals (Optional)
Mini Jack & Plug (Optional)
On the thermocouple side of any instrument it is important to use what they call a compensated connector this means that the connector has to be made of the same alloy's as the type used in the a type "K" thermocouple. Using any other alloy will cause the instruments reading to have an error.

To simplify the ordering process EGT has optional Type K connections. Please let us know which connector is desired at checkout.

If you have any questions feel free to contact EGT @1-800-348-4678