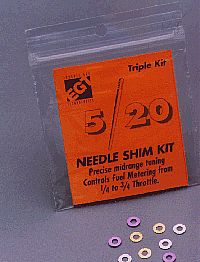 Controls Fuel metering From 1/4 to 3/4 Throttle

A standard carburetor needle has five adjustable e-clip positions that move in increments of .040" ( forty thousandths of an inch ) at a time. This large adjustment can take you from too rich to too lean ( or visa versa ). The 5/20 Shim Kit allows you to adjust your needle .010" ( ten thousandths ) at a time giving you a total of 20 adjustments instead of just five. The 5/20 Shim Kit is easy to install and use.
IT WORKS!!

Uses existing needle. Kit consists of .010", .020", and .030" precision cut stainless steel shims.
Available in two or three cylinder kits.
Please call for USPS shipping options.