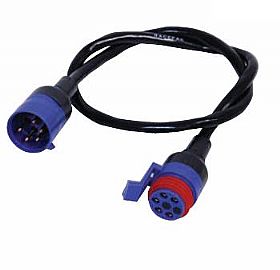 Vnet Extension Cable's
V-Net modules and Interface modules, although similar in construction and appearance, are very different in the functions they perform.
It is important that components designed for one system not be interchanged with the other. V-Net cables use a 5-pin connector, while Interface cables use a 7-pin connector.
So that cables can be identified at a glance Racepak has color-coded the connectors on the end of the cables. V-Net cable connectors are blue, just like the modules to which they attach, while Interface cable connectors and modules are black.
The cables listed may be used to link the components to other listed components of the same system, or to their proper port on the recorder. The Interface cables with black connectors will only be used with modules connecting to the RPM or Analog input ports, while the V-Net cables with blue connectors will be used exclusively on items connected to the V-Net port.
All V-Net systems must be equipped with a Tee cable. The Tee cable permits the installation of the two terminator caps (one male and one female) which are necessary to the operation of the V-Net system. Just like the ends on the V-Net cables, all V-Net Tee cables and Terminator Caps are blue.
Interface modules can also use a Tee cable, but only for the purpose of providing a branch in the system. It is not a mandatory component as it is on the V-Net system. The black Interface Tee cables and dust caps are used just for the purpose their names imply. They are not required for the system to operate properly.
Bulkhead connectors are used when a V-Net or Interface cable must pass through a firewall, body panel, or motor plate. They provide a male/female connector on each side of the panel. These are specific to the type of cable that is being used and are color coded for easy identification.