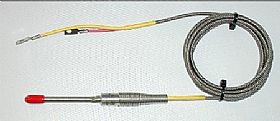 Designed to withstand the punishment from today's Diesel Trucks, the 3018 Series Diesel EGT and Turbo temperature probes are built as tuff as your truck.
The Fast response sensor protects you from blown pistons and rings or damaged injectors on those long pulls. Even if you are running propane or water injection, these probes can take the heat and still report accurate readings, (+/- 4 F. @ 1000 F.).
Installation is a breeze with our wide selection of hardware and fittings. The 3018 Series will fit all Edge Products, Bully Dog, Auto Meter, Banks, Diablo, Isspro, SPA Gauges Dyno applications available.
Available Straight or w/ 90 Degree Bend
RUGGED DIESEL DESIGN
FAST RESPONSE
EXTRA LONG LIFE
2000 F. RATED SENSOR TIP
SULFER RESISTANT
72" HIGH TEMP. LEAD LENGTH
STAINLESS STEEL OVERBRAID
1 YR. WARRANTY
FAST INSTALLATION
* Mounting hardware is not included.