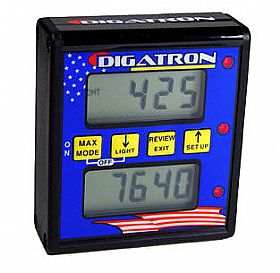 Digatron 32J3 LT series RPM/CHT-EGT
DT-30K Series Instruments (Includes: sensors, mount & backlighting)
30 Series
If you want the basics in a simple package, the DT-30 series is for you. This line of instruments records your maximum readings while offering you easy-to-read displays for monitoring vehicle functions. The patriotic cover displays your pride in being an American racer.
DT-30K Series:
Engine RPM (Tachometer) and up to two temperatures.
Maximum readings of all functions. Minimum readings of RPM.
Large, bright, easy-to-read displays. Times displayed to the 100th of a second.
USA "Patriotic" cover.
Automatic power on and off feature.
Backlight for night viewing.
Size is 3" x 3.5" x 1.2"
(3) Highly visible red L.E.D. warning lights
Free P.C. Downloadable software. Features:
Custom instrument configuration, charts, and log book. USB and serial computer input.
Quality lightweight high impact aluminum casing.
Lifetime Warranty.
Quickest and most reliable sensors on the market.
Optional Features are available; see "Digatron Accessories"
Options Include :
Additional EGT sensors
Water Temperature sensors
DC voltage Harness
MPH/Jackshaft sensor
Data Download Software and Cable
Timing Beacon & Receiver
Wall Charger