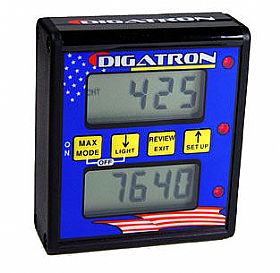 Digatron 32K3 LT series kit includes Engine RPM/CHT-EGT w/ Max Recall (No Datalogging).
32K Series Kit Includes :
32K3 LT Instrument
Tach Harness (Inductive or Square Wave)
EGT Sensor (48" Length w/ Clamp or Weld-on Mounting)
CHT Sensor
Mounting Bracket
Backlighting
Size is 3" x 3.5" x 1.2"
Alarms w/ Lights on all inputs
Powered by (2) AAA batteries (included)
Auto Turn On, with Max Recall on all channels
LIFETIME WARRANTY on the instrument
Add The Following Options: (additional cost)
This instrument has thermocouple temperature functions. Either a CHT, EGT or Water Temperature sensor can be connected to a temperature function on the gauge. The limit entered in the instrument will determine if the instrument displays CHT or EGT.
If a temperature sensor is not used in a specific channel the factory will include the shorting plug that can later be removed by the user to upgrade to a extra temperature channel.
We offer a large variety of instruments, accessories and options. We encourage you to call us with any questions regarding our products.
Tech Assistance: (1-800-348-4678 Toll Free or 1-909-548-8100)
**Sensors can be ordered at any requested length. (Additional custom length fees apply)