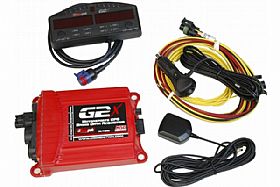 Racepak Data Systems has introduced a new data acquisition system that is sure to be a hit with a broad selection of motorsports enthusiasts. The new G2X is a simple, economical, and if need be, portable system that offers performance data for those who require information about a vehicle's on track dynamics. This would include road and oval track racers, club racers, kart racers, driving schools, and test facilities.
The G2X is a multi-channel logger that uses GPS and G-meters to provide you with track mapping, mile per hour, lap times, segment times, lap distance, mile per hour, lateral G-force, and acceleration G-force. With 128 MB memory capacity this little dynamo can store over 30 hours of GPS data.
Installation is ultra simple. Just secure the logger in the vehicle, connect it to 12v power (cigarette lighter or cell phone power port), place the GPS antenna on the vehicle and attach its cable to the G2X, and you are ready to start recording.
The G2X kit includes the recorder, dash, all wiring, GPS antenna, communication serial cable, data analysis software, 128 MB memory card, and manual.
Enhancing the G2X is an amazing little display dash. With the dash you can define the start/finish line while on the track, thus providing immediate access to monitored data. The dash will provide display of lap times, lap number, lap gain/loss, gear indicator, progressive shift light, battery voltage, and G-forces. Engine RPM is available to those with an ignition system that provides a tach signal output. When the vehicle is stationary the gear indicator becomes a display of the number of satellites currently being monitored. The dash is connected to the G2X via a single cable.
Uploading data from the G2X to the users PC is accomplished via the Racepak DataLink II software and the flash card. This permits the user to perform track mapping and detailed data analysis.