---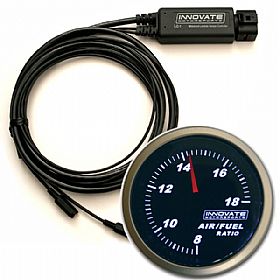 This Innovate Motorsports G3 AFR Gauge / LC-2 Kit comes complete with the patented award-winning LC-2 Wideband Controller, G3 Gauge, Bosch 5-wire Wideband 02 Sensor, Bung/Plug Kit, Software CD, and quick start guide. This is Innovate Part Number IN-3802. For the G3 Gauge alone, see part number IN-3804
Any modified or custom tuned vehicle should be monitoring Air/Fuel Ratio to ensure you're achieving the most horsepower available without undue risk of engine damage. The LC-2 Wideband Controller provides that data and this gauge keeps it instantly available at all times.
Other products that we recommend with G3 Kit (G3 Gauge, LC-2 & O2 Sensor):
Product No.
Select a Product for More Info
Price
Qty
Buy
Group / Accessories
Innovate Accessories & Replacement Parts


Replacement Parts and Accessories for the LM-1,LM-2,LC-1, LC-2,LMA-3,TC-4,MTX-D,MTX-L,XD-16,G2/3/4/5 & DB Instruments.