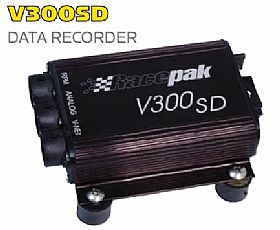 V300SD with Datalink Lite (motorcycle). 200-KT-V300SDLM
The V300SD series data recorder is our newest data recorder.
In base configuration, the V300SD monitors five parameters, but it can be expanded to monitor up to 67 channels of data to meet the needs of most users. The V300SD can sample data as quickly as 1000 times per second. Uploading recorded data to your computer is done via a SD memory card, which provides you with hours of recording time and the ability to store many runs prior to uploading the data.
This means that no download cable is required! The V300SD also has multiple methods of displaying monitored data in real time. When linked by serial cable to your PC you can view all recorded functions in either graph format or on 8 virtual gauges while the vehicle is running.
Any monitored function can also be displayed in real time on Racepak's optional Intelli-Gauges, UDX dash or IQ3 display dash. Also, the V300SD can monitor overall ignition timing with the optional timing package.
FEATURES:
Channels:
67 total
V-Net: 56
Analog: 4 hard-wired
Digital: 4 hard-wired
Internal: 3
Sample Rates:
V-Net: up to 100 per second
Analog: up to 1000 per second
Digital: RPM and switch contacts up to 100 per second
Memory:
128MB SD memory card
Recording time depends on number of channels
monitored and sample rates
Record multiple runs
Cabless
Internal Sensors:
Battery Voltage
Longitudinal g-meter (acceleration and deceleration)
Lateral g-meter (side-to-side motion)
Dimensions:
4.374" (L) X 3.935" (W) X 1.230" (H) (11.11cm X 9.994cm X 3.12cm)
Weight: Typical Uses:
Pro-Mod
Pro Stock
Top Dragster
Top Sportsman
Comp Eliminator
Super Comp
Super Gas
Motorcycles
Land speed cars
Drag Boats
The V300SD package monitors:
Engine RPM
Driveline RPM
Engine v. Driveline RPM differential
Battery voltage
Acceleration g-force
Lateral g-force
The V300 package includes:
V300SD Data Recorder
128MB SD memory card
Driveshaft or rear wheel RPM sensor with split collar and magnet kit
Datalink software kit with serial programming cable
V-Net tee connector with terminator caps
Power/Ground/Engine RPM/Driveshaft Harness (clutch RPM optional)
Software Kits
V300SD with Datalink Lite (automotive). 200-KT-V300SDL
V300SD with Datalink Lite (motorcycle). 200-KT-V300SDLM
V300SD with Datalink Standard (automotive). 200-KT-V300SDS
V300SD with Datalink Standard (motorcycle). 200-KT-V300SDSM