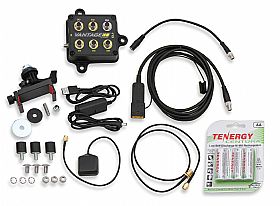 Bronze Kit Includes:
RacePak CL1 Data Box
1-RPM Inductive Pickup/Temp Harness
1-Temp Sensor "Your Choice" (Stinger EGT/CHT/Water) *2Yr Warranty on Stinger EGT Sensor!
USB Charging Cable w/Adapter
4-AA Rechargeable Batteries
GPS Antenna
Universal Dash Bracket
The Vantage CL1 kit merges the power of Racepak's exclusive D3 App mobile technology with a mounted CL1 data box for the most advanced, yet intuitive data system available.

Sensor data is transmitted via Bluetooth from the CL1 data box to a steering wheel-mounted, D3 app-equipped mobile device, displaying sensor and lap timing data to the driver, while automatically uploading all data to Racepak's secure cloud service via the phone's cellular connection. Data is stored locally on the mobile device for immediate analysis upon return to the pit area.

In addition, the use of mobile technology also provides the exclusive ability to remotely view live on-track and recorded data from any worldwide location through the use of Racepak's D3 app installed from the internet-connected Android or iOS device, utilizing Racepak's subscription based cloud service.

Powered by 4 AA rechargeable batteries (included).
Dimensions: 3.250" (L) x 3.000" (W) x 1.625" (deep)
Weight: 0.5 lb (223 g)
Package Dimensions: 8.500" (L) x 6.000" (W) x 4.000" (deep)
Package Weight: 2 lbs (906 g)
Vantage CL1 Informative Video's