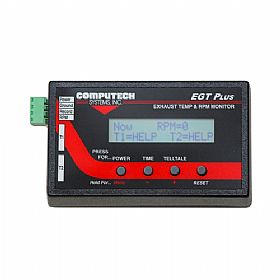 This Replacement EGT Monitor is just the monitor and the EGT Plus Power Connector without any included probes. Only order if you need a replacement.
Tuning by Exhaust Gas Temperature has been a standard and consistent way of monitoring tune up for years. The relative low cost of EGT Probes and their longevity make them ideal for any racing operation.
Our EGT Plus series allows you to monitor both sides of the engine as well as your engine RPM making it the most feature rich EGT monitor on the market. With the EGT Plus we expanded on the typical maximum recall and offers the starting line temp, finish line, maximum and note time.
Computech EGT Plus "Instrument Only"
Kit Includes:
(1) EGT Plus Dual Instrument #4155
(1) Install / Operation Instructions