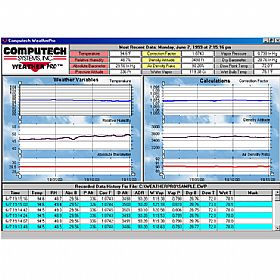 If you already have a RaceAir or RaceAir Pro weather station and would like the ability to track your weather on your computer, you can do that with the RaceAir PC Download Kit.
This kit includes a cable to connect the RaceAir to your computer, a power supply to help save batteries and the Weather Pro software. This is a great way to get into computer weather logging without paying the higher price for a weather resistant weather station.
Keep in mind that since this is your handheld RaceAir unit that we are getting the weather from, you will need to keep it out of extended direct sunlight as well as bring it in if it begins to rain. We have also had a few customers that have left their unit out and plugged in when they went to the staging lanes and when they came back it had been stolen, so make sure to either leave someone or bring it in.
If you would like something that can withstand the weather and can leave up throughout the entire day, check out our RaceAir Remote and RaceAir Remote.
Features
40 Feet of Cable
Power Supply For RaceAir
Weather Pro Software

Easily Graph Weather Variables
Time Stamp Runs On The Graph
Chart For Easy Data Search
Exportable to Excel