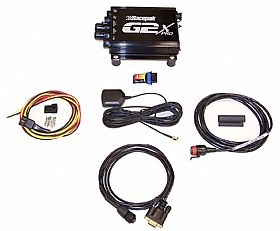 RacePak G2X Pro Puller Kit for Single Engine Modified Applications. (No Digital Display)
The G2X-PRO Puller System will Monitor Engine RPM, Battery Volts, 2 G-Meters (Lat & Long,) GPS Speed,2 Rear Wheel RPM, Drive shaft RPM,and Throttle Position. (Additional items needed for Engine RPM on Diesel & Magneto applications)
The G2X Pro Puller Kit Includes:
(1) G2X-Pro Data Logger 600-KT-G2XPRO
(1) Vnet Module for TPS 230-VM-TPS
(1) 3" Linear Sensor for TPS 800-LN-TRV3
(10) Magnets for Wheels 800-MG-SM-.25
(3) RPM Sensors Magnetic 800-SS-MSC-5
(1) GPS Antenna
(1) 128 MB SD Memory Card
(1) Datalink II Software
(1) Communication Cable
(1) Power/Ground/Engine RPM Harness
Purchasing this as a kit Save's You $241.50!

The G2X-Pro builds on the G2X's already impressive capabilities by allowing the user to monitor up to 71 channels, while providing lap and segment timing along with speed and track mapping functions through the use of GPS information.

The G2X-Pro utilizes our exclusive V-Net plug and play technology which allows the data from up to 55 sensors to be transmitted via a single cable to the data recorder. The G2X-Pro brings with it more hardware in the form of our steering position, throttle position, and brake pressure package.

This package provides easy installation through the use of a module that permits the user to terminate these sensor cables to the desired length. A single cable then links the module to the G2X-Pro recorder.

Suspension and ride height data may also be obtained by purchasing the appropriate shock and ride height sensor package, which installs and transmits data in the same method as the steering/throttle/brake package.

In addition, any V-Net sensor may be used with the G2X-Pro. The G2X-Pro can utilize any of our three available display dashes, depending upon the user's requirements.

The UDX provides 21 programmable inputs, but does not allow the ability to set start/finish from the dash. The G2X mini dash (standard G2X dash) allows the user to set start/finish, while programming any two sensor inputs along with shift lights, for display.

The IQ3 display dash provides the 24 programmable inputs, shift lights, warning lights and the ability to set start/finish from the dash.
FEATURES
Channels:
71 Total
V-Net: 55
Analog: 8 hard-wired
Digital: 4 hard-wired
Internal: 4
Sample Rates:
V-Net: up to 100 per second
Analog: up to 1000 per second
Digital: RPM and switch contacts up to 100 per second
Memory:
128MB SD memory card
Recording time depends on number of channels monitored and sample rates
Internal Sensors:
Battery Voltage
Longitudinal g-meter (acceleration and deceleration)
Lateral g-meter (side-to-side motion) GPS
Dimensions:
5.350" (L) X 5.5550" (W) X 1.215" (H) (13.589cm X 14.1097cm X 3.0861cm)
Weight: The G2X-Pro package monitors:
Accel G
Lateral G
Battery Volt
Track Mapping
GPS Speed
Lap Time
Lap Number
Segment Time