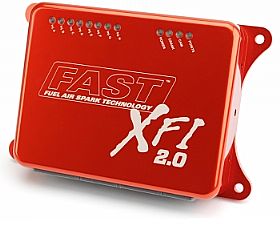 Vnet EFI Interface Module FAST Serial
EFI Data Interface
These V-Net modules have been created to interface with many electronic fuel injection systems on the market. Each V-Net EFI Data Interface module is equipped to allow direct connection into the EFI system. These modules allow your V-series data recorder to share the data collected by these systems rather than having to install duplicate sensors to monitor functions that are already being monitored by the EFI system.
The shared data can be recorded or displayed just as you would any function monitored independently by your Racepak V-series recorder. Caution should be exercised to ensure that you do not exceed the maximum number of V-Net channels supported by your particular logger. The individual functions monitored by each EFI system are outlined below.
With this module you can interface your system to the Racepak UDX or IQ3 Dashes.
EFI Engine RPM
EFI MAP Press
EFI. TPS.
EFI A/F 1
EFI Voltage
EFI H2O Temp
EFI Intake Temp
Timing Ign. 1
Knock Retard
Injector Pulse Width
O2 Diagnostic
O2 Correction
Power Adder Enable
Power Adder