Koso RX2-NR GP-Style Race Tachometer

KNA-BA015010
3 LBS.
---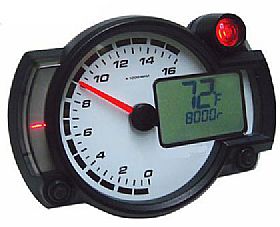 Koso RX2-NR GP-Style Race Tachometer
Part# BA015010
Tachometer / Water Temp with alarms
Highly visible gauge with both digital display and dial-type tachometer; dial face is blue backlite with lighted needle
Dial displays tachometer with 0-16000 rpm range, displays max rpm.
Digital display shows tachometer and water temp
Programmable shift light and adjustable high-temperature warning
Records max rpm and temperature
Measures 100.7mm (4 in.) H x 135.7mm (5.35 in.) W x 52mm (2.05 in.) D
Includes gauge bracket and temperature sensor
KOSO RX2-NR TACH GP STYLE Features
Tachometer Display range: 0 - 16000 RPM
Display unit: 100 RPM
Display internal <0.5 second
Shift Light Setting Range: 5000 - 16,000 RPM
Setting unit: 100 RPM
Stroke / piston setting 2 Stroke: 1,2,3,4 pistons / 4 Stroke: 1,2,3,4,5,6,8,10,12 pistons
Temperature Range: 0 - 250°c
Display unit: 0.1°c
Temperature alarm Setting range: 60-250°c
Setting unit: 1°c
Battery Type 9V-1604, 6LR61
Working temperature range -10 ~ + 60°c
Meter size (WxLxH) 135.7 x 100.7 x 52 mm
Meter weight Around 240g
EGT has access to the entire Koso line so if you don't see what your looking for give us a call 1-800-348-4678.