SmartWire Switch Module

500-SW-SM16
2 LBS.
---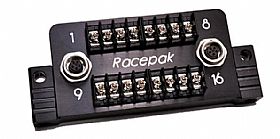 Manual activation can be achieved through use of 16-channel Switch Module. From the Racepak Smartwire unit, a single small cable is routed to the Switch Panel module, reducing wiring clutter. This allows the user to wire his own switches.
Users needing additional switch panel capabilities can easily expand through the use of a "jumper" cable to a second Racepak Switch Panel.