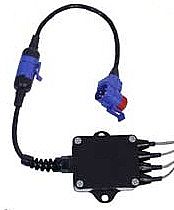 V-Net Module & Junction Box, EGT, Cylinders 5678
(Junction Box Only, No EGT Sensors Included)
V-Net systems and V-series recorders use two types of thermocouple setups to monitor the exhaust gas temperatures, one for an individual cylinder application and another for 3 or 4 cylinder groups.
Measuring the EGTs on a single cylinder application is accomplished using a thermocouple that features an inline, two-prong mini-connector. This connector provides the union between the thermocouple and the V-Net module. A selection of single cylinder thermocouples is shown on next page.
The most frequently used setup is the four thermocouples with junction box combination. This setup simplifies the installation on V8 engines by grouping the four thermocouples on each cylinder bank into a common junction box. The junction box then provides a single wire connection to the V-Net module to facilitate service work. A similar setup is available for V6 engines.