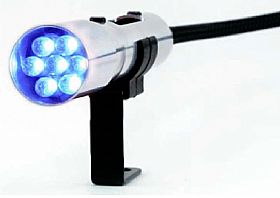 TX Series SST Shift Light Blue LEDs- Silver Tube
STANDALONE SHIFT-LIGHT!!
Using "Smart Signal Technology" the new Revolution SST shift light captures up to 100 samples of each and every incoming spark pulse. Constantly monitoring each spark from your engine and translating it into a perfect shift each time.
The most feature packed and versatile stand alone shift light currently on the market. The SST works with 1-12 cylinder ignition engines, single coil, distributor-less, Coil on Plug and does not require a tachometer adapter.
Works on ALL ignitions (from .5 - 6 Pulses per Rev)
The SST also has a programmable htz mode that allows user to "dial in a known RPM" on the easy to read LED screen to work with any incoming signal. Works on Diesel fuel injectors too!
Setable shift point within 10rpm. Shift point setable up to 20K for motorcycles and powersports too!
Peak Recall feature lets you recall max RPM achieved.
Setable day and night brightness settings. NO MORE RUBBER CAPS TO MESS WITH! Choose from 5 different LED intensities (including off) for day/night driving conditions.
Billet Aluminum housing measures 3.500in. X .800in.
Easy to use push buttons on billet housing accesses menus.
Turn screen on or off to display RPM while in operation.
Comes with Life-Time warranty!
***Other LED Colors available*** Consult Factory