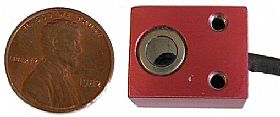 VNET TEMP MODULE W/ INFRARED SENSOR 0-200°C/400F
Racepak makes a great little heat sensor (Part # 220-VP-IRT200). It's very small, about the size and shape of a sugar cube and can be installed anywhere. A common locale is in the wheeltub area where racers can measure the tire temperatures at various bands around the slick. Be sure to include a shroud to keep rubber from coating the sensor. Want to make your burnouts the most effective? Aim one of these babies at the slick, then another at the track. Learn what the relationship between tire temperature and track temperature is at the time of the launch. You may be surprised to find how quickly the tires cool and you'll be stunned to find the consistency in measuring this relationship against the G-meter and driveshaft rpm.
Here's a gem of a thought. One of the MOST controversial issues currently in our sport relates to pinion angle. Whether you measure the pinion angle against the driveshaft or the crankshaft, you should think about placing one of these sensors near your front and rear U-joints. Measure the temperature of the U-joints during the run and learn what pinion angle gives you the lowest heat reading (and therefore least amount of friction.)
How about snowmobile belt temperature??