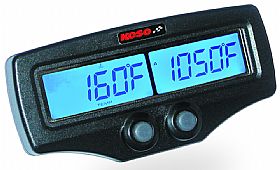 Koso Dual, Tach, Water Temp & (2)Stinger EGT's!
Complete Kit!!!
Continuing on with the evolution of our dual EGT gauge, Koso is proud to offer you its new dual EGT with RPM and Water temperature.
Gauge Spec's:
EGT Temperature Range 250F-2100F
EGT Warning Range 392F-1832F
Accepts AC or DC Voltage
RPM Range 0-15000RPMs / 1-12 Pulses
Water Temp Range 32F-392F
This gauge allows you to tune the engine more precisely and prevent engine damage. The settable warning and maximum recall functions for both EGT's,RPM and water temperature are easy to use and show you vital engine information. The color change and backlighted screen makes it very easy to see the settable warning. This tool can save your engine from expensive repairs!

Kit Includes:
Koso Dual Instrument w/ Power/Tach Harness.
Universal / Adjustable Instrument Mounting Bracket.
Water Temp sensor for 1/8" NPT Mounting.
(2)Stinger Series Probe w/ Clamp-on Mounting. (Faster reactiing sensor about .02 second) also see EGT-0225 for weld-on hardware *purchased separately.