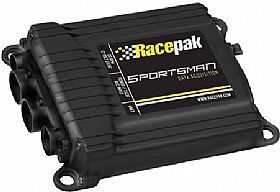 Introducing the all new Sportsman Data Recorder from Racepak! This new data acquisition system is designed to meet all of the needs of the sportsman racer, including their budget.
The new Sportsman Series incorporates the same V-Net technology used by the professionals, but in an economically priced package. In its base configuration, you can record and download engine rpm, battery voltage, acceleration G's and lateral G's. There are up to 21 channels of data available for other accessories and sensors.
After a pass, simply pull the SD memory card out, and open the information on your PC using Racepak's DataLink software, no cables are required. You'll be able to see how your engine and car perform on the strip, and use that information to help you win!
Internal Sensors:
Engine RPM
Driveshaft RPM
Battery Voltage
Record Button
2-Axis G-meter
12 volt event
Kit Includes:
Sportsman Data Logger
User-terminated harness
Driveshaft collar, sensor and mount bracket
Record Button and SD Card
USB to Serial adapter
Serial cable