Koso Mini LCD Water Temperature Gauge

KNA-BA003035
1 LBS.
---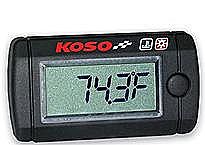 The Koso mini LCD Water Temperature Gauge will give critical information on the engine coolant temperature.
Its small size makes it easy to install. This unit is about the smallest and lightest temperature gauge on the market. The internal battery allows you to install it on any vehicle. Range is 32F-302F with peak temp recall. Includes 1/8" NPT pipe thread sensor.
Compact thermometer with easy-to-read, backlit display
Changeable internal battery
Records top temperature
Measures 33.7mm H x 61.5mm W x 15.6mm D
Includes water temperature sensor