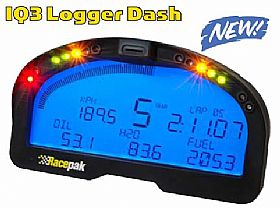 RacePak IQ3 Logger Dash
IN STOCK!!
The IQ3 merges Racepaks v-net single cable sensor technology and proven GPS based data logging with a fully programmable display, creating a complete data center within the dash display.
The full feature dash includes an internal 32-sensor channel data logger, while the internal GPS board and 3 axis G-meter obtain track mapping and speed. This eliminates the need for an external data logger, beacon, receiver and wheel speed sensor. Sensor wiring harness is not required, as all external sensor data is routed to the rear of the dash by a single 6mm diameter cable. Datalink software included provides professional level data analysis capability in an easy to use format.
Specifications:
32 external sensor input with optional high speed logging modules
Displays up to 28 inputs via 4 pages
512mb microSD memory
3 Axis G-meter
Gear indicator
User defined alarms with on screen warning text and lights
User defined shift lights
User defined 5 character sensor input names
GPS track mapping
GPS speed and lap time
Shielded, low luster display for daylight viewing
Blue backlight
Metric and imperial capable
Options:
External sensor inputs
Motorcycle sensor module available
Weight: 1 pound

Size: 7.125 x 4 x 2.125 inch's (approx)

Kit includes:
Data logger dash display
Rear entry connector with power, earth, RPM, remote programming harness
512mb microSD memory card located in the top face of the dash for easy download
GPS antenna and cable
Programming cable
Datalink analysis software and installation manual
Dash Display provides viewing of:
GPS lap time and lap number
GPS speed
Battery voltage
Accel G / Lateral G / Vertical G
RPM (with appropriate tach signal)
Shift lights
Warning lights
Gear indicator (with appropriate tach signal)
Data logging of included internal sensors and optional external sensors
28 total programmable inputs on four display pages
Downloaded Data provides:
Speed
Lap times
Section times
Track mapping
Battery voltage
Accel G
Lateral G
Vertical G
Date reports
Full data analysis with data export and math channel capabilities
The IQ3 dash represents an entirely new concept in data logging dashes. By placing the 32 channel data logger, 512 MB memory card, GPS board and 3 axis G meter inside the dash, every feature of the data system is now located in one central location.

And, when that 32 channel data logger is one of Racepak's exclusive smart sensor type, that means that only one small cable will transmit the data from all the sensors to the rear of the dash.

So, for the customer, this means:
No external data logger necessary
No bulky, heavy sensor wiring harness
No beacon transmitter or receiver necessary for lap time data
No wheel speed sensor necessary. GPS provides speed and track mapping
The IQ3 offers features uniquely designed for a variety of motorsports:
Road Racing (auto/ bike) and Circle Track
GPS provides speed, lap time and lap number. No beacon, receiver or wheel speed sensor required 512 MB of memory insures plenty of data storage for long runs with multiple sensors Compact design for motorcycle use Dash provides 24 sensor inputs on four different pages.
Dash includes programmable warnings, shift lights, gear indicator, predictive lap time, with remote mount programming button capability.
Boats
Prop Slip and Prop Speed can be displayed on dash (with appropriate tach signal input) Optional water resistant sensor module now available for marine use GPS provides speed, lap time and lap number. 512 MB of memory insures plenty of data storage for long runs with multiple sensors Dash provides 24 sensor inputs (replaces up to 24 gauges) on four different pages. Dash includes programmable warnings and shift lights with remote mount programming button capability
Pullers
GPS ground speed available from GPS data All in one design reduces overall weight of data system. Optional water and dirt resistant sensor module now available for puller use Dash provides 24 sensor inputs (replaces up to 24 gauges) on four different pages. Dash includes programmable warnings with remote mount programming button capability
For a link to download the FREE demo software please contact EGT @ Sales@exhaustgas.com