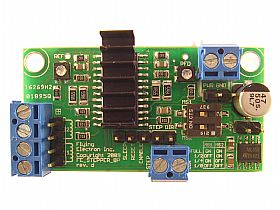 Bipolar Stepper Motor Driver Board
The FE_STEPPER_BP is a bipolar stepper driver for use in the control and sequencing of stepper motors. The driver incorporates many of the complicated functions needed to efficiently drive a stepper motor such as current chopping, microstep sequencing, and H-Bridge control. The driver has many safety features such as overheat protection, safe power up sequencing, and undervolt lock out protection. The driver has been designed to work with most popularly available stepper motors.
Please see the datasheet for full information on all of the features and capabilities of the motor driver.
Key Features
Designed for Stepper Motor sizes NEMA 8, 11, 14, 17, and 23
Bipolar drive for maximum stepper motor torque
Terminal blocks for quick and easy connection of all external wires such as stepper motor coils, power, direction, and step signals
Dipswitch selectable microstepping - full (1/1), half (1/2), quarter (1/4), and eighth (1/8)
Easy trimpot adjustable current limiting from 150ma to 750ma
Easy trimpot adjustment for slow decay mode, mixed decay mode, and fast decay mode
Onboard 5V regulator, 20ma available to power external devices
Heatsink for high heat dissipation
Drive voltage range from 5V to 28V
Overheat protection
Safe power on sequencing
Undervolt lockout protection
Star ground PCB layout for excellent noise immunity
Specifications
Recommended Input Voltage - 5V to 28V
Recommended Stepper Motor Sizes- NEMA 8, NEMA 11, NEMA 14, NEMA 17, or NEMA 23
Recommended Stepper Motor Type- 4 wire, 6 wire, or 8 wire
Microstepping Options- Full, Half, Quarter, Eighth
Drive Current- 150ma to 750ma
Stepper Motor Configurations- Bipolar Series, Bipolar Half Coil, Bipolar Parallel
Current Decay Modes- Slow Decay, Mixed Decay, Fast Decay
External +5V Current Available 20ma max