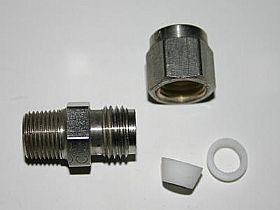 Exhaust Gas Technologies offer's the Following types of sensor mounting hardware.
FIXED TYPE FITTINGS
Fixed type fittings are brazed or welded to the sheath. All fittings are made of 304 or 316 stainless steel.P> Spring loaded fittings have a 316 SS body with an Inconel® 600 spring
These spring loaded fittings feature a fluid tight seal pressure rated to 50 psi at ambient. Primarily designed for use with thermowells and ensures bottom contact, we also offer low cost spring loaded fittings for drilled well and non-fluid applications, see L Series.
Readjustable Compression Fittings
Made entirely of 304 stainless steel, these fittings can be relocated at different positions along the sheath. Sealant glands are available in Teflon® (500°F) and Lava (1000°F). Pressure is rated up to 3,000 psi.
Non - Adjustable Compression Fittings
Non - Adjustable compression fittings available in stainless steel and brass. These fittings cannot be relocated along the sheath once tightened. The 304 stainless fittings have pressure ratings up to 10,000 psi, depending on temperature and sheath diameter.