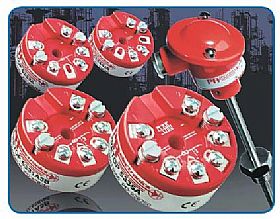 Temperature
PR electronics' temperature transmitters cover every application within transmission of RTD and TC sensor signals into mA, mV, HART, PROFIBUS® PA and FOUNDATION™ Fieldbus communication. The product range includes:
PRetrans 5100
PRetop 5300
PRetrans 6300
The 2200 series
PRetrans 5100, PRetop 5300 and PRetrans 6300

With the unique AUTOSWITCH, which automatically recognizes the protocol to which the transmitter is connected, these temperature transmitters can be integrated in both PROFIBUS® PA and FOUNDATION™ Fieldbus.
The digital communication permits the user to carry out differential, redundancy and average measurements, PID regulation, diagnostics, etc.

The integrated calibration function allows set up of sensor error detection.

The transmitters are available for both standard and Ex applications.

The transmitters are most flexible and configurable through PR electronics' own PC program, PReset, or the common bus systems dependant on transmitter type.
The 2200 series

A number of low-priced temperature transmitters each covering a specific application make up the 2200 series. Some transmitters are configured from factory; others can be programmed wholly or partly through dipswitches or front/display.